Harvard Art Museums' Crossroads: Drawing the Dutch Landscape…June 12, 2022
Greetings once again,
In addition to my work creating oil paintings for my upcoming exhibitions it has been a great honor to consult on an important exhibition at the Harvard Art Museums entitled, Crossroads: Drawing the Dutch Landscape, which opened on May 21st and runs through August 22nd, 2022.
I was first contacted in April 2021 by Susan Anderson, Curatorial Research Associate in the Division of European and American Art at the Harvard Art Museums, who curated the exhibition along with Joanna Sheers Seidenstein, the 2018–22 Stanley H. Durwood Foundation Curatorial Fellow. This exhibition covers landscape drawings from the late 16th century through the early 18th century, by artists working in the Netherlands—then known as the Dutch Republic. My contribution dealt with the nature and use of traditional drawing materials during this time period.
In addition, I contributed several traditional drawing tools from my collection, which I use in my own work. These drawing materials were displayed in a didactic case and included natural black chalk in reed holders, reed pens, and traditional brushes crafted from entire quills stuffed with miniver (squirrel tail hairs). A photo of the didactic display case was sent to me by Susan Anderson and is below.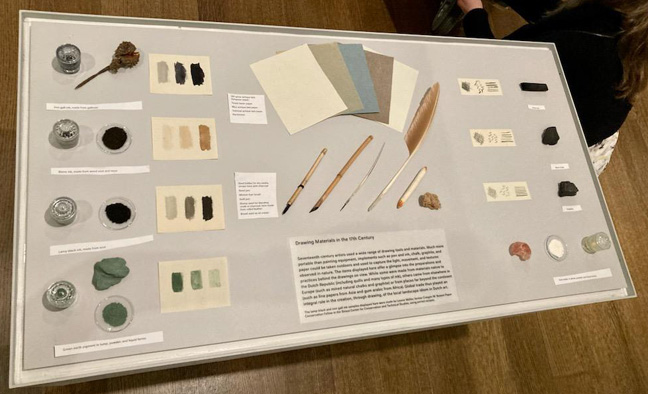 The quill brushes were noteworthy as they predate the brushes made with metal ferrules or short sections of quill mounted on wooden handles used beginning in the 18th century. Brushes were originally referred to as hair pencils (Latin, penicillus – rod shaped, French, le pinceau) and in the late 1300s Cennini wrote that miniver hair pencils weremade from hairs that were bundled, tied, and inserted into dove, hen, goose, or vulture quills depending on the size of brush needed. The image below shows two brushes from my collection, a goose quill miniver brush and smaller one made from a duck quill.

An excellent illustration of this type of brush as used in the 17th century is in a drawing by Pierre Dumonstier II from the British Museum entitled, The right hand of Artemisia Gentileschi holding a brush, c. 1625, Black and red chalk on paper, 21.9 × 18 cm, seen below. It is noteworthy not only from illustrating how the 'hair pencil' was held in the fingertips, but also by the fact that it is made of an entire quill, this one is at least the size of a goose or swan quill, based on how large it is in her hand. Note the gentle curve of the brush handle and the translucent nature of the quill especially near her thumb.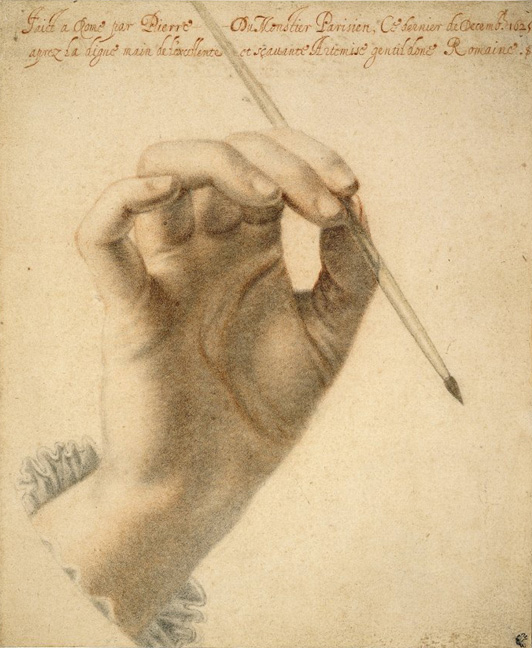 For more information on this exhibition see: https://harvardartmuseums.org/exhibitions/5902/crossroads-drawing-the-dutch-landscape
If you have any questions or comments, I would love to hear from you.
Best,
Timothy