Mayhew's drive for knowledge of lost old master drawing materials and techniques led him to pursue advanced studies in fine art at the Smithsonian's National Gallery of Art in Washington, DC. Since 1993 he has been working with the museum's curators of old master drawings researching the origins, nature, and techniques of medieval and renaissance drawing materials. For Mayhew, this research has included the first-hand study of the numerous old master drawings housed in the museum's archives. This study introduced him to many types of medieval and renaissance drawing materials of which many are, unfortunately, no longer available or in use today.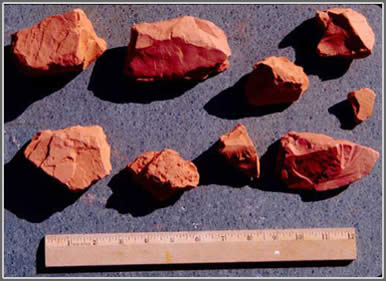 Natural Red Chalk
At the end of the 14th century, European old master artists adopted a series of natural chalks, starting with natural black chalk, as new and unique drawing materials which enabled great changes to their treatment of graphic space. Building upon the popularity of natural black chalk, which allowed artists to create drawings on a greater scale, natural red chalk was added to their growing selection of broad-line drawing material by Leonardo da Vinci as early as 1473, based on a sketch on the verso of a dated drawing.
Natural red chalk was a geologically unique material that was quarried directly from the earth and was sufficiently cohesive to allow it to be sawn into short chalk pencils and used as is. Natural red chalk became so popular that its use quickly spread to other artists such as Michelangelo, Raphael and many other old master artists throughout Europe.
Unfortunately, there was a great loss to the world of art beginning in the early 1800s, when the use of natural red chalk began to diminish and was eventually lost due to a variety of geological, political, and economic conditions. The causes included the depletion of the more easily-quarried surface layers of its deposits which greatly increased the difficulty and cost of extraction, rapidly growing competition from inexpensive synthetically-produced iron oxides, and the growing commercial availability of fabricated and artificial red chalks made from synthetic iron oxides.
Unfortunately, fabricated and artificial red chalks were not made from the same materials as natural red chalk and thus they do not share its unique appearance and working properties. The geological formation of natural red chalk gave its components unique particle size and morphology which accounts for its fineness of line, glowing beauty, and the striking translucent chroma. As a result, many artists of the time greatly mourned the loss of natural red chalk and searched in vain for new sources. The pre-Raphaelite artist, Edward Burne-Jones, sums up this loss by stating:
"Now the ancient red is a far more crimson and rosy tint than the dusty brown sticks they give us now, and I have understood always that the ancient red is exhausted and that we have fallen on evil days and can get no more of it, and as I am always asking about it of every colourman I meet, in vain…"
[This quotation is from the Memorials of Edward Burne-Jones, 1904, vol.2, p.322. I am gratefully indebted to Miriam Stewart, Assistant Curator of Drawings, Fogg Museum of Art, for bringing this quotation to my attention.]
Determined to locate deposits of natural red chalk, Mayhew researched the specific features of the geology in the areas where natural red chalk was quarried in the 15-17th centuries. Next he sought out matching geological conditions in the United States of America. Using this information, mixed with several years of searching and exploration, he has been able to locate a deposit of natural red chalk in the desert area of Arizona.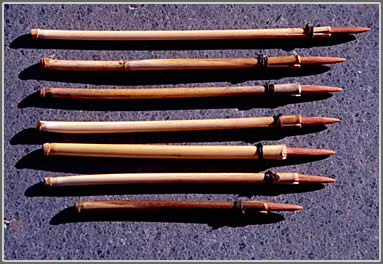 From his working translations of a variety of 15th to 17th century manuscripts, which detail the working practices of the early European artists, Mayhew has learned how best to quarry the natural red chalk, how to prepare the natural red chalk into suitable drawing sticks, and how to recreate the traditional tools that were used to hold the chalk in order to draw very precisely with it.

With the discovery of a modern source of natural red chalk, Mayhew has been able to revive the use of this beautiful, but lost, old master drawing medium for the first time since the late 1700s. According to museum curators, Mayhew's discovery has made him the only living artist known to be working in this beautiful medium. Encouraged by this success, he has used the same approach to discover deposits of natural black chalk, another very widely used renaissance drawing medium that has also been lost over the years.
Mayhew has begun publishing his research into the natural chalks used for drawing by the European old masters in the Journal of the American Institute for Conservation (JAIC). Already published are his manuscripts on natural black chalk in 2010, and on natural white chalk in 2013. He is planning on a total of four manuscripts in this series to include natural red chalk and natural yellow chalk.
Metalpoint Drawing Materials and Techniques
Mayhew's research at the National Gallery of Art eventually lead to his association in 1996 with the world-renowned Fogg Art Museum at Harvard University. Since that time, he has been working with the Fogg's curators and conservators doing research on medieval and early renaissance metalpoint drawing materials and techniques. The old master drawing medium of metalpoint reached its peak of use in the 15th century. This complex technique is accomplished by drawing with a stylus made of a non-ferrous metal upon a specially prepared support. Due to the sub-microscopically abrasive nature of the preparation placed on the drawing support, minute particles of the metal are abraded from the stylus and left on the support as visible lines or marks. Since these marks are made up of the actual metal from the drawing stylus, many of them will eventually change color as they take on beautiful metallic patinas over time.
Although traditional renaissance metalpoint drawing included the use of a wide assortment of metal styli, including silverpoint, goldpoint, bronzepoint, copperpoint, tinpoint, leadpoint and many others, the composition of these traditional styli were usually much different than the metal alloys available today. For instance, in the 15th century there was a critical silver shortage throughout Europe. Because of this situation, much of the available silver was alloyed to varying and often significant degrees with the base metal, copper. While this silver shortage was disastrous for the economy of the day, it may well have been fortuitous for the art of metalpoint drawing. The silver-copper alloys used in the 15th century form a beautiful translucent warm golden patina, which is much warmer than the patina that forms on pure silver. In addition, renaissance bronzes were lead-based alloys, used since classical times, and thus differ in formulation from modern bronze.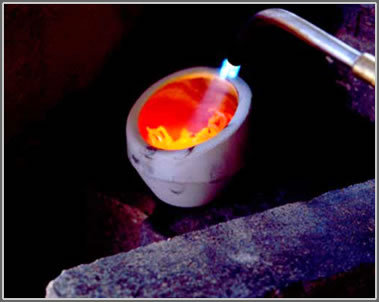 From translations of a variety of European artists' manuscripts written in the 9th to 17th centuries, Mayhew has been able to determine the actual traditional metal alloys that were in use in those times. Using this information, he has been able to reproduce a wide variety of alloys which were used for traditional renaissance metalpoint styli. He has hand cast a wide variety of metalpoint styli based on traditional renaissance alloys, which he uses for his own drawings and studies. From his experiences, he has found that metalpoint styli cast from traditional renaissance alloys have better working properties and, over time, exhibit more interesting patina coloration than do styli made using modern metals and alloys.
However, the metalpoint styli are only part of the story of this complex drawing medium. Even more important are the special metalpoint preparations that coat the drawing supports, which make this fascinating technique work. Researching a variety of old master artists' manuscripts, he has rediscovered numerous traditional renaissance and pre-renaissance formulas for the metalpoint support preparations. It took years of trial and error for him to learn how to prepare the unusual components and to determine the actual proportions of each based on the obscure archaic measurements in the references.
In the fall of 1998, Mayhew's research, and the old master drawing materials he has developed, were included in a major exhibition of old master drawings at Harvard's Fogg Art Museum. In this exhibition, the drawings of many old master artists, including Leonardo da Vinci, Ghirlandiao, Perugino, Carracci, Clouet and others, were exhibited alongside the hand-cast metalpoint styli, metalpoint paper preparations, natural red chalk and other early renaissance drawing materials developed by Mayhew. In addition, he has donated an extensive inventory of the old master drawings materials that he has developed, known as the Mayhew Collection of Old Master Drawing Materials, to Harvard University's Straus Center for Conservation. The curators and conservators use this collection for teaching purposes and for research on traditional old master drawing media.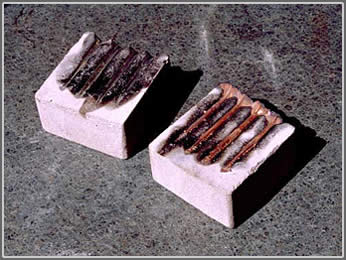 Mayhew has studied and adopted the working methods of Italian renaissance artists who thoroughly studied their subject matter with detailed drawings before approaching the final painting. Using this approach allows him to truly understand his subject matter as he prepares for the work of the painting. Mayhew chooses his artistic subjects from the landscapes, people, and animals that he seeks out, and his sketches and drawings are done in natural red chalk, natural black chalk, 15th century silverpoint, Campanian bronzepoint, Graecanic bronzepoint, goldpoint and many other beautiful, but until now, lost old master drawing materials and techniques.
Due to the skill of their rendering, and the fact that such beautiful and rare drawing materials were used to create them, these drawings have become valued treasures amongst serious art collectors. Over the past several years, important Museums including the Boston Museum of Fine Art, the Philadelphia Museum of Art, the National Gallery of Art in Washington, DC, and Harvard University's Fogg Art Museum have acquired numerous original drawings done by Timothy, which are now housed as part of their permanent collections, which are world-renown for their collections of drawings by old master artists.
To see drawings by Timothy David Mayhew, which are done in a variety of old master drawings materials, follow this link: drawings.