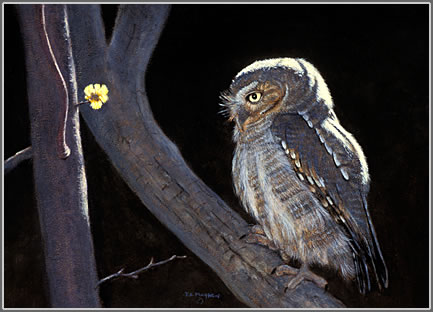 Timothy David Mayhew's approach to the creation of art stems from ideas of the philosopher and humanist, Marcus Tullius Cicero, who was one of the most versatile minds of classical Roman culture. Cicero said that, "Art is born of the observation and investigation of nature."
Thus, Mayhew has found that the very essential component of his artwork involves taking frequent forays into natural environments to allow him to study the landscape, and the elegant creatures that inhabit them. While there, he will gather invaluable information, such as drawings, sketches, and en plein air landscape oil paintings, all of which help him to understand and internalize his experiences. Although this approach is time-consuming, he is convinced that these forays into the backcountry are necessary for the direct observation, investigation, and understanding of nature. He once tracked and studied a trio of moose for three days through the Tetons, and yes, to him it is that important. Mayhew finds that spending so much time in quiet study of wildlife eventually puts them at ease and the reward is that they will often display some very unique and interesting activities, behaviors which are often missed by less-patient individuals. As an added benefit, he finds that his time spent communing with nature energizes him and gives birth to his artistic passion, the ephemeral muse that inspires his artistic process.
As far as contemporary teachers are concerned, Mayhew is quite adamant when he says that Bob Kuhn has been his biggest influence. Mayhew has known Kuhn and studied painting and drawing with him for several years. Mayhew treasures the many drawing sessions they shared of live animals in studio and zoological settings, reinforcing the value of direct observation and investigation of nature. Mayhew believes that Kuhn could do more than capture the heart and soul of an animal, he could use his skills as a master colorist, coupled with the strength of his composition and design to create stunning masterpieces. In 1998, Kuhn encouraged Mayhew to travel to Washington, DC, to learn about complexity of color harmonies by studying a major exhibition of paintings by Mark Rothko. Kuhn was also adamant that Mayhew should travel to the backcountry of Denali, Alaska, to experience and study the moose, caribou, wolf, and grizzly bear interacting in this isolated and spectacular natural environment. After recently returning from his third trip to the backcountry of Denali, Mayhew truly understands why this was so important to his mentor. Mayhew feels that one of his fondest memories is a treasured compliment that Kuhn gave him during one of their joint drawing sessions of a live wolf. Kuhn admired his drawing and wanted to know if he could keep it. Mayhew says that nothing could have pleased him more than that.
A related and perhaps even equally fond memory for Mayhew came in the 2010 Western Visions exhibition at the National Museum of Wildlife Art where he was extremely honored to receive the prestigious Robert Kuhn Award. The National Museum of Wildlife Art established the Robert Kuhn Award to honor the memory of master wildlife artist and long-time friend of the Museum, Bob Kuhn. Because of the years of Mayhew's training and experiences with Kuhn, winning this award was a very great honor of deep significance for him.
Although Mayhew uses the time-proven medium of oil paint for his paintings, he uses other artistic media for his drawings and sketches. Early on, he discovered that most modern drawing materials are too problematic to be of use in remote natural environments, especially when working in the backcountry. In settings such as these, he found that he needs portable drawing material that have superior working properties to create drawings which will survive the rough handling encountered in backcountry conditions without smearing. Mayhew was familiar with the exquisite drawings done by old master artists like Michelangelo, Raphael, and da Vinci from his early studies of their drawings in museum collections. The drawing materials that the old masters used were very different from the drawing materials available to artists today. This need for better drawing materials sent Mayhew on a several decades-long research project to rediscover the traditional drawing materials and techniques of 14th to 17th century European old master artists.
Mayhew has published his research on traditional old master drawing materials in several peer-reviewed journals and is he frequently invited to lecture on these topics at major museums. However, perhaps more importantly, Mayhew's own drawings are created using these lost traditional old master drawing materials including natural red chalk, natural black chalk, natural white chalk and metalpoint. While the main functions of his drawings are to serve as references for his studio-based paintings, many of them stand on their own as finished works of art. He considers it to be an honor that many of his drawings have been acquired by several major museums including the National Gallery of Art in Washington, DC, the Philadelphia Museum of Art, the Museum of Fine Arts, Boston, the National Museum of Wildlife Art, the Fogg Art Museum at Harvard University, and the Leigh Yawkey Woodson Art Museum.